Today we chat with Rebecca Leijer, a mother of 2 living in Torquay with a marketing career behind her and a design career ahead of her. Bec studied at Design School in 2016/17 and just finished building her forever home with her husband Damien. Bec shares what she has learnt from building her own home and studying at Design School.  
Morning ritual?
Hoping everyday that my kids stay in bed until at least 7:30am! I listen to some podcasts when I wake up, while I am pottering around making lunches, the house is nice and quiet and I have time to myself.
Your Creative Start
and
Offline
are my current favourites!
Favourite flower?

Not really… I am more into greenery and foliage to create texture and contrast, anything neutral mostly. Im not really a colour person and like simple things!
Design Hero?

Since we started our small furniture design business a couple of years ago, we have become very aware of the incredible makers in the industry and particularly love Made by Morgen and Mast Furniture. Australian Furniture design at its finest!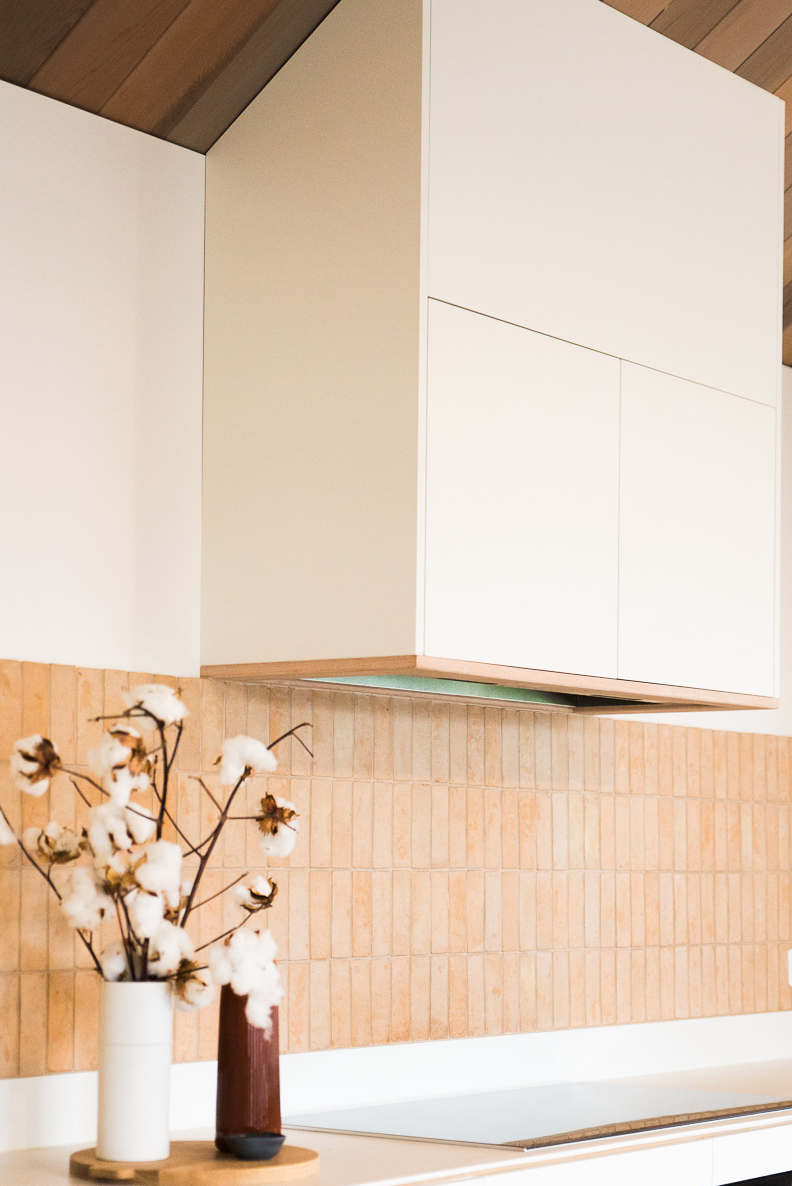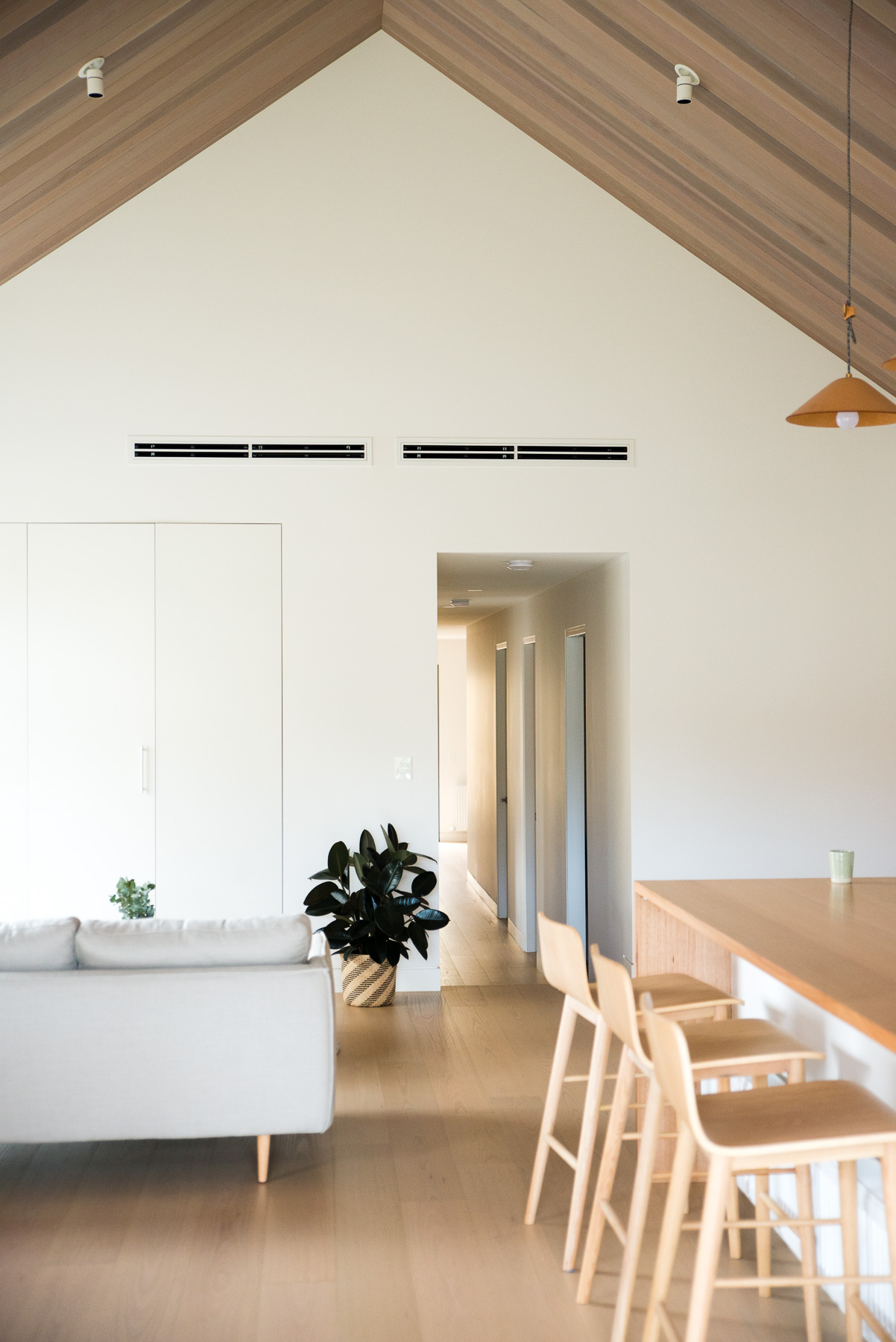 Take us through the process of how your home came to be
We purchased our house about 3 years ago, it was definitely the location and not the actual house that sold it for us! We decided to move to Torquay from Melbourne to give our kids the best upbringing we could imagine. Living by the beach, in a growing and welcoming community, going to a local school, while living 5 minutes from their grandparents! 
We designed and developed our home ourselves over many months, working to create a space that truly reflects us as a couple. While also keeping the layout very simple for our family, just exactly what we require day to day and nothing more.  Its most commonly described as a timber cabin or contemporary barn!
We took my husbands sketches of the house to a draftsman and he did all of the technical drawings for us. My husband built our home during his long service leave, alongside some very handy tradie friends of ours! He also project managed the entire build to bring us in almost on time and almost on budget! I designed all the interiors and sourced all the furniture and lighting. We designed quite a few elements on the fly, such as our window seat, because we could and we were our own clients. 
Why did you decide to study Interior Decoration? 
When we moved down to Torquay I was on maternity leave with my second little girl and I had in my mind that I was going to change the direction of my career. It was around that time that my husband and I started a furniture business, this came about because we had started building bed heads just for ourselves and people liked them! I was settling into life in Torquay and I got a bit bored so decided to put together a website to sell our furniture pieces. It went well and we were both really proud of where we go to with it. It was a good creative project for both of us which tested us in many ways and I guess got us immersed in the industry. 
Shortly after this I spotted a post on Instagram about Design school and immediately thought 'I have to do this course!'. It just sounded like the perfect mix of hands on experience but also all of the basic theory that you need to become qualified in the industry. My initial intention was to study purely to refine my skills in order to build our home, I hoped but certainly didn't expect that I would end up with a job at the end of it. So it has been a very exciting and surprising outcome to now be working for Nectaar, alongside some other amazing former Design School students and learning from our favourite girl boss Rebecca Douros!
How has studying at Design School helped you with building your own home?
This house wouldn't have developed in the direction it has without studying at Design School, that's a certainty! It provided me with all confidence that I needed,  amazing technical skills and it also helped refine my aesthetic. Being able to brief our joiners and trades with my own drawings was something I never imagined I would be able to do. And obviously saved us money in the process by not outsourcing this element of the build. For anyone that is renovating or building their home, this course is invaluable. Working on your own 'dream brief' for your course work during the year certainly makes the study more fun!!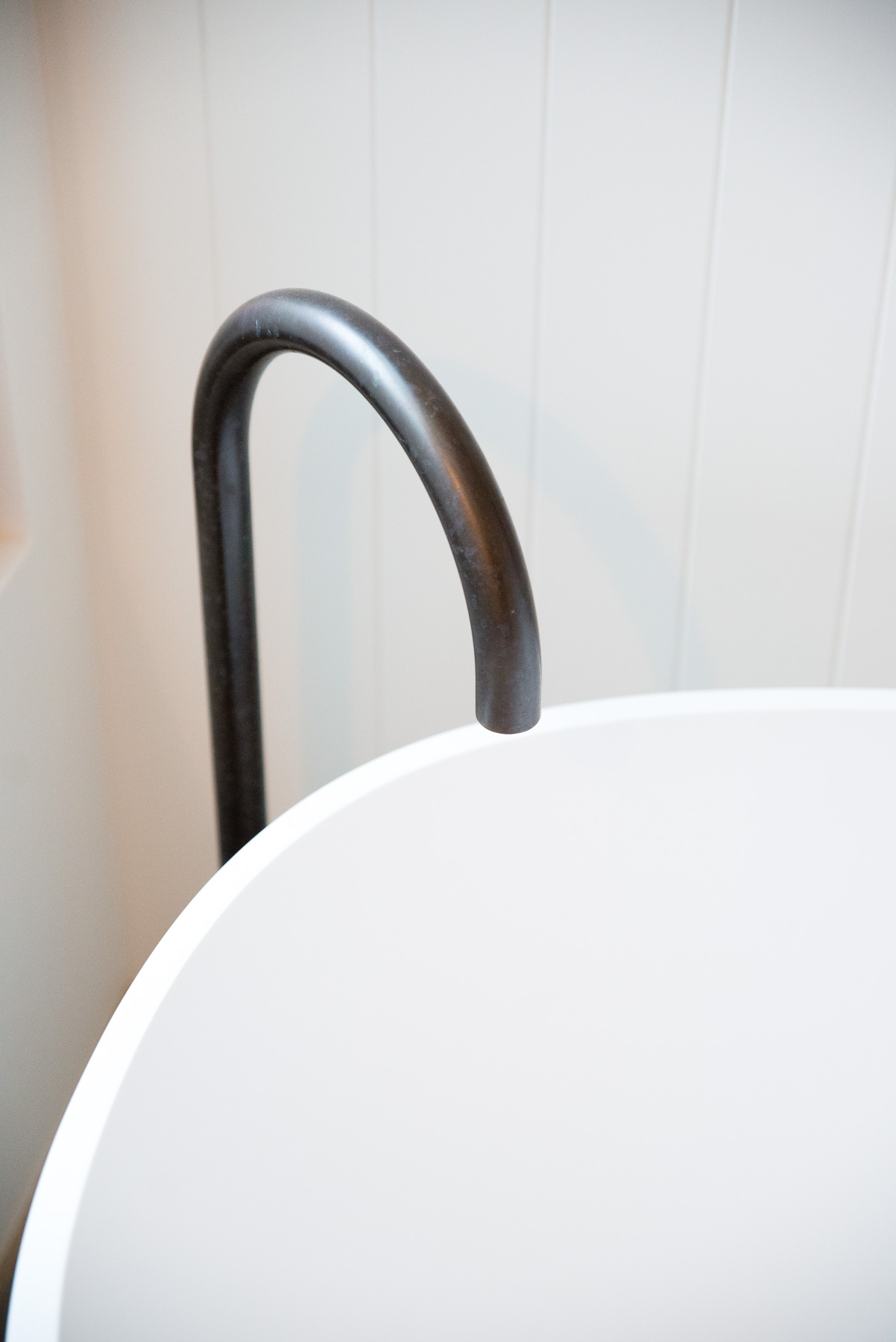 We love your aesthetic! Where do you source your inspiration?
Thank you so much! We are really inspired by where we live, I don't think this house would have existed in the same way if we still lived in Melbourne. My husband says that for an Irish girl I have self developed a real love for contemporary Australian design and architecture, I am obsessed with it!
The biggest compliment we have received about this house is how simple it is. We have worked hard to achieve that and for a new build, I like to think it feels homely which comes down to all of the textures and finishes I guess. A lot of people also say it looks very like our brand of furniture that we designed, so I suppose we have a certain look.
Design School was so inspiring, from our super talented mentors Jenna and Mel to all the amazing students and industry leaders we were exposed to. It was the most uplifting experience I've had in my career so far.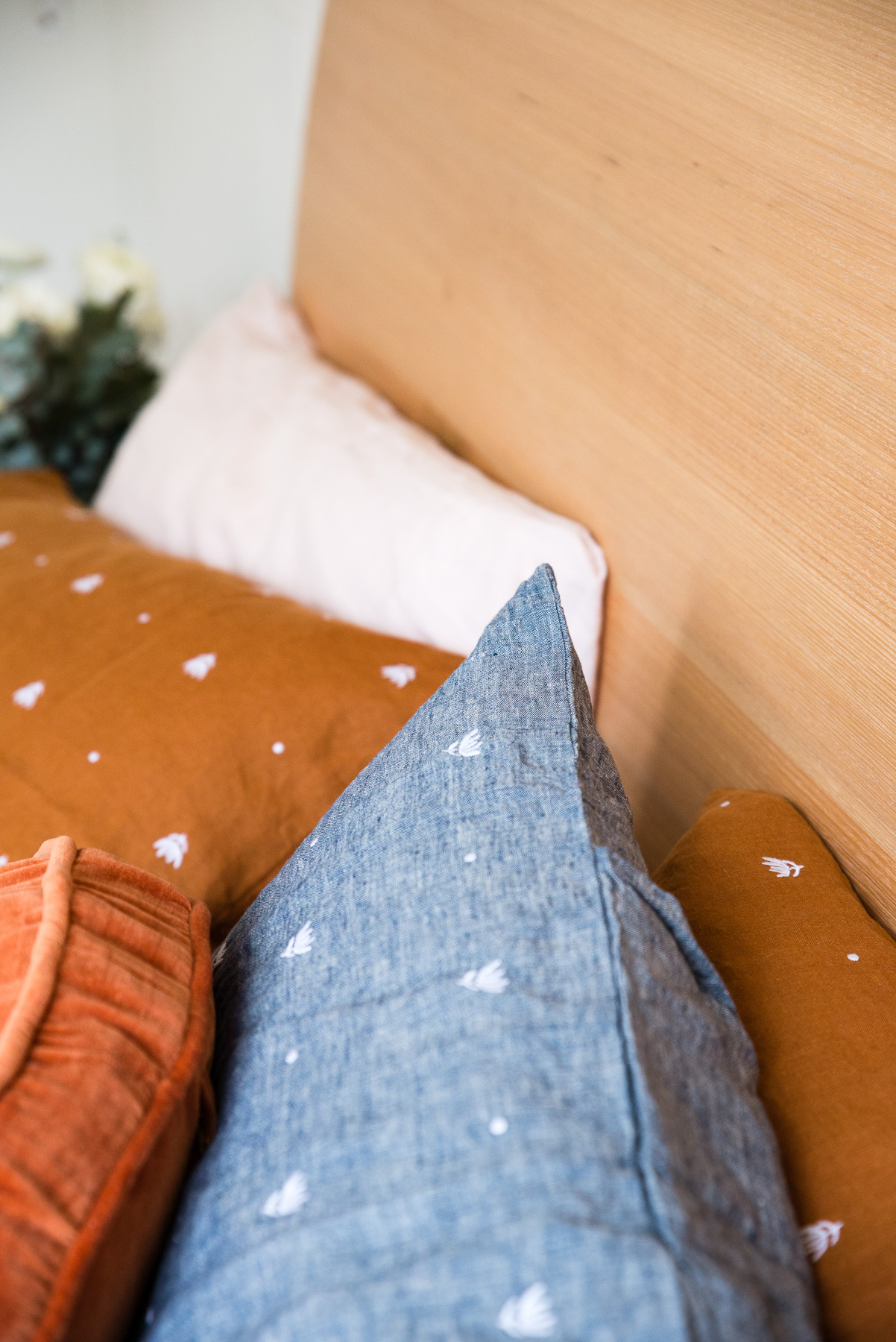 What was the biggest learning curve with building your own home? What should future home builders know?
As owner builders we had control over pretty much everything, apart from one of the biggest jobs which was all the joinery, which we decided to outsource. This was the most costly learning curve for us. We were unfortunate enough to lock in a company that was in the middle of a take over, which we clearly weren't aware of. It was the most stressful few weeks trying to get the level of finish that we were looking for. Everyone will tell you that good joiners are hard to come by, we were massively let down by ours and if we could turn back time we would have trusted our guts and moved our business elsewhere when things started to go wrong.
How long has the process taken from start to finish?
The planning stage took around a year and the build took 5 months, which was 4 weeks over schedule because of the joiners!! That was from demolition to us moving in the door with our suit cases! My husband ran the project like clock work.
What are your favourite pieces in your home?
Its actually hard to narrow it down! The Potter Halo Pendants by Anchor Ceramics above our dining table are certainly up there. They were thrown on a potter's wheel using a specially formulated, high grade porcelain sourced from a producer in Tasmania and manufactured in Victoria over 12 weeks. I couldn't wait receive them!
One of our favourite design features is definitely the boxed window seat, our daughters favourite place to sit as the sun comes pouring in.
How has designing your own home changed your day to day life?
A home that is thoughtfully designed will change the way you live your life day to day, it absolutely does and I really believe that. Before we started the build, I imagined the day we would be in our kitchen, the girls sitting at the bench while I made their breakfast, cooking for family and entertaining friends. It's a very special but easy house to live in. When we have our friends around and there's kids everywhere its still actually quite relaxing and it all just works. 
Our kitchen splash back nearly didn't happen, our tiler was not a huge fan of the handmade raw terracotta bricks when I first showed them to him. Most people thought I was mad using them for a splashback! But we found a sealant that ensured they are easy to clean and we worked with our tiler Ben (absolute legend) on the best pattern to lay them and they are probably the biggest talking point of the house when guests visit. When you see everything coming together that you have worked on for so long as well it is just the most incredible feeling.
Anything else we should know? 
I think that the people you meet and the friends you make at Design School are probably what people wouldn't expect and one of the nicest things about the experience. We still catch up every few months and we are all so supportive of each other. Its great to see so many friends doing great things and moving in some many exciting directions! Its just the best.