Today we introduce Morgana & Meg, the creatives behind one of Melbourne's up and coming florists, Candy MT. Doing things a little differently, the duo have created a business around pushing boundaries, challenging what is on trend and experimenting with new products like seaweed plastic! We are super excited to announce that we will be running a workshop called Door Candy, a seasonal wreath making workshop with Candy MT on December 1st. 
We chat to the duo about some of their favourite projects, life as a florist and 2019 goals.
____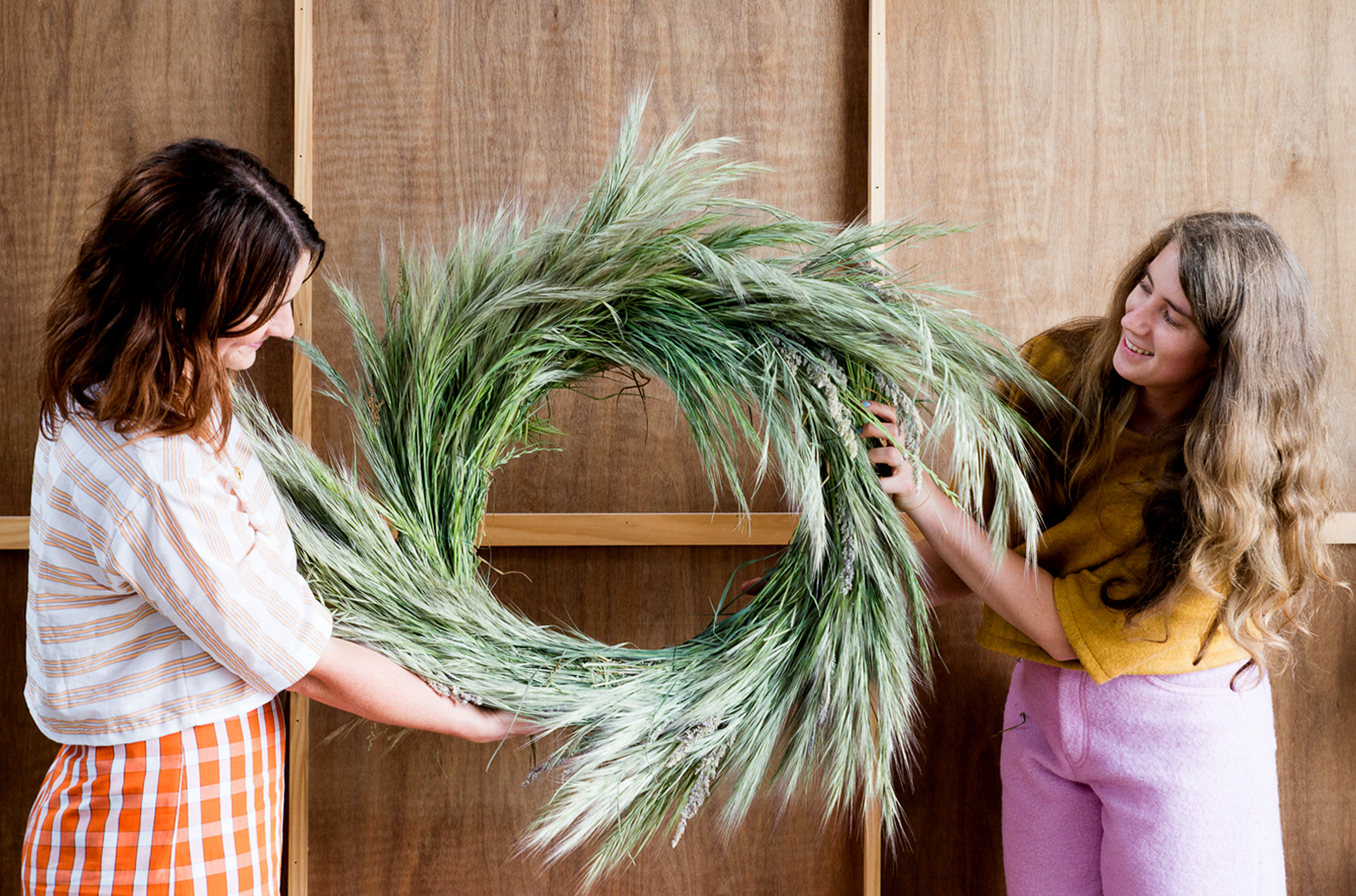 1 – How do you take your coffee?

Morgana
– With milk, cows milk.

Meg
– I don't drink coffee! Just water and sparkling wine…
2 – Favourite colour at the moment?
Morgana & Meg – Orange & turmeric but also all of the colours! but orange and turmeric for life.
3 – What are you currently listening to?
Morgana & Meg – Lady start up podcast!
Meg – Mariah Carey
Morgana – No mono
Talk us through how Candy MT came to be –
Morgana & Meg – We had both been working in the industry for a long time, but it felt like it got to the point where there wasn't really a place for us in the industry that already existed. So we were kind of thinking, what could it be and what would it be for us? And it is interesting because there are so many amazing florists in Melbourne so I guess we had sort of been looking at them but there wasn't necessarily an environment where we could experiment. We have always been interested in fashion and we want to figure out ways to weave that in. And we love fabric and paper just as much as flowers so it kind of has all just come together! So I guess we just wanted to have a business that incorporated all of our loves, and not that it isn't happening in the industry already, but it is just so fun to muck around with it in your own way.
What do you think you are doing differently to other florists? 
Morgana – I think that interest in textiles and fashion makes us make different choices. So we are always looking for new products to use and experiment with! We are thinking about the individual flower creation that we are making, but then we are also thinking about how we can make the industry better. In terms of trying to find new ways to reduce and minimise the use of plastic, so we have been researching plant based alternatives and we have discovered some really exciting alternatives. It is a long term vision but we are always trying to make the better decisions along the way.  Because we are a young company, we aren't afraid to try something different! We are always trying to make something that is beautiful but challenges what is 'on trend.'  
Why do you do what you do?
Morgana – Because flowers are just the best thing in the world, in so many ways! They just are.
Meg – They always change, its so seasonal and you don't get bored of what you are working with and it is so rewarding.
Morgana – The lifecycle is so fleeting and I feel like flowers are often so tied up with love in one way shape or form and that is such a beautiful medium to interact with anyway, just a sense of love is nice too.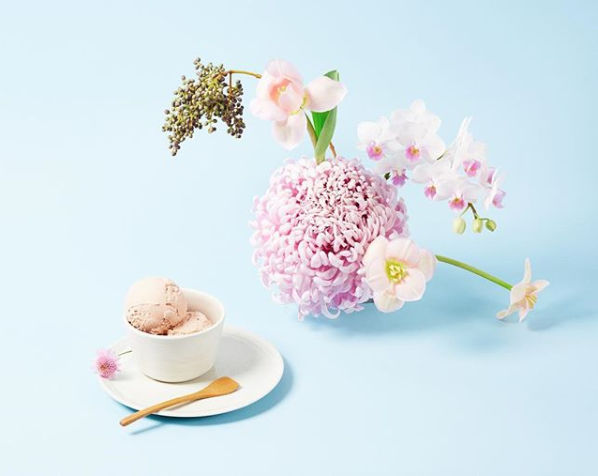 " I think that interest in textiles and fashion makes us make different choices. So we are always looking for new products to use and experiment with! "
What have been your favourite projects that you have worked on?
Morgana & Meg – We were apart of Flowering now which was a collaboration of hand selected florists that 'defy traditional understandings of floristry'! And we made a paper mâché paper scape that incorporated plants all through it for a record label party which was pretty fun. But we always try to make every job something that we love! We did a wedding in Bali and it was marigold heaven! And all of our jobs have actually been great because we take on clients that let us push them a bit. 
What is the life of a florist really like?
Morgana – so many Dirty hands!
Meg – So dirty, and sometimes a sore back, early mornings
Morgana – And so much glory! So much sweeping, so many dirty hands
Meg – No lunch! and just at the end of it its always like 'We did it!' and it is so rewarding once you get through it especially because it is normally really tight turn arounds
Morgana – and also its a bit of a treasure hunt as well! And you often don't know what it is until you see it. Which I love!
Do you have a favourite flower? or is that like asking who is your favourite child?
Morgana – Not quite, It changes!
Meg – It changes with the seasons,
Morgana – Whenever we go to the markets, its generally like "Youre my favourite!"
Meg – and it is normally the one really random spotty or striped one, we always love something that is really weird or different that is just like one in a bunch and you have to buy the hole bucket! And sometimes that means buying 10 bunches to get that one flower! And sometimes we will… Its always the weird little one.
Morgana – But it is really hard to chose! But my favourite flower this week would have to be Dogwood, lilac, snowball, tree peonies, thats my favourite
Meg – Lily of the valley and violets and anything really tiny and petite. 
Whats your favourite thing about Christmas?
Meg

– The Mariah Carey
 Christmas album! Hands down my most favourite album, it makes me so happy.
Morgana

– The sounds! The summer sounds like cicadas
Meg

– and everyone is out and about
Morgana

– also all of the Macaulay Culkin movies!
Meg

– Yes Home Alone! Definitely great.
2019 plans?
Morgana – Oh my god
Meg – So many!
Morgana – Candy MT fashion label…
Meg – Yes definitely! We want to investigate this situation
Morgana – Catwalk flowers
Meg – Yes we would love to work with more fashion labels – crossing our love with fashion
Morgana – have a studio!
Meg – more international things
Morgana – Paris fashion week… ah
Workshop info!
If you would like to know more about our upcoming workshop Door Candy with Candy MT you can find everything you need to know as well as tickets over here!
You can find more photos of beautiful flowers and witty captions by Candy MT on Instagram here. 
Photography Credits –
Images 1 & 7 by Kristy Staatz
Images 2,5,6 by Jessica Grilli
Image 3 by Bonjo abadi 
Image 4 by Gareth Sobey