Before dipping her toes into the design industry, Harrie Colella was a primary school teacher! Knowing it wasn't her forever job, Harrie started exploring her options and landed herself a spot at Design School. Today we chat to Harrie about what she has been up to since graduating (a lot!) What studying at Design School is like and 2019 goals.
_____
February 2019
Photographer – Leah Ladson
Fun Facts
Favourite Quote? 'Fortune favours the bold' – Latin Proverb
Currently reading? Becoming by Michelle Obama
Go to ice cream flavour? Boysenberry
Since graduating in 2017, whats have you been doing?
It's been a whirlwind! One minute I was marking grade 2 spelling tests, and the next, I was chatting to my now boss about a full time position in 2018. I joined the team at The Block Shop at the beginning of January 2018 and set up/managed the St Kilda Pop Up Store. We are now in the works of getting the 2019 shop underway and I have just started a part time job at Nectaar as their Studio Assistant.
You love colour and we love how you style with it! How did you find your signature style?
I Oh YES I sure do! It's so fun and it brings so much joy when I enter a space. I don't really know where my aesthetic stemmed from though, I guess I just like what I like? I looove mustards and terracottas, which is lucky because they are super trendy right now, I don't know what i'll do when they aren't cool anymore!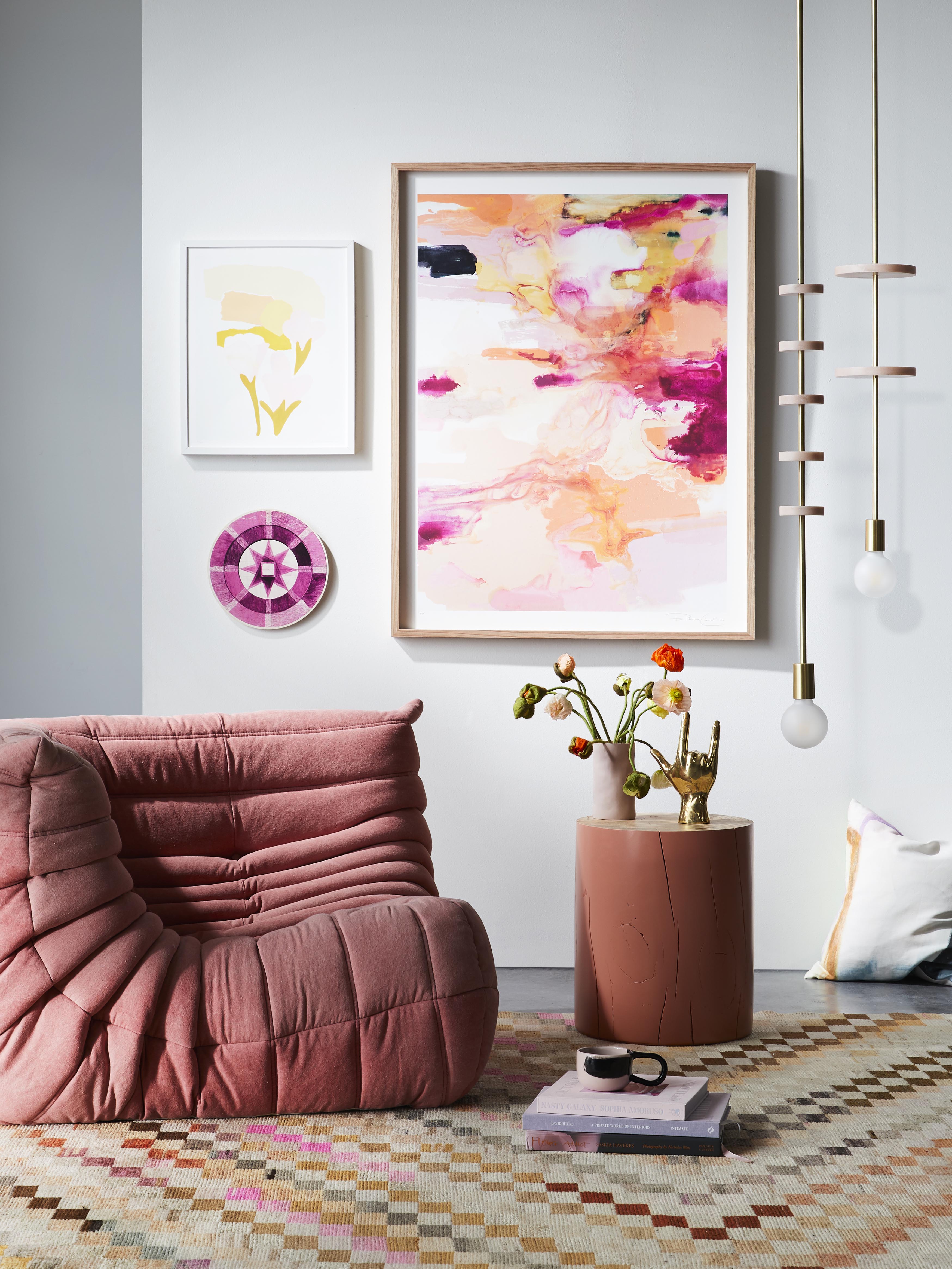 Photographer – Armelle Habib
Styling in collaboration with Harrie Highpants, Design School & Julia Green.

Photographer –  Armelle Habib
Styling in collaboration with Harrie Highpants, Design School & Julia Green. 
What does design mean to you?
I think design comes down to solution and expression. It's about (figuratively) slapping your personality all over a room and having an everlasting connection with the people you created it for.
What was the most valuable thing about Design School for you?
Getting to know so many amazing people. Yes, I gained so much industry knowledge, but walking away with new, dear friends has been the most special. I had never surrounded myself with a creative bunch of like-minded people before, or had people appreciate paint colours and cushion fabrics they way I did with my Design School friends- that is REAL stuff to bond over!
Photographer – Leah Ladson

Materials Board – Harrie Highpants
What is one thing people wanting to study interior decoration should know?
If you can't stop thinking about it, it means you need to do it. 
What does your dat to day job involve at the moment?
It depends on the day! I am in the office at Nectaar of a Tuesday, assisting the Interior Decorators and working out of The Block HQ every other day. We are in the sourcing stages for the 2019 Block Shop Pop-Up and will soon be fitting it out and filling it up, so just getting all of that organised and liaising with suppliers and trades.
Window display drawing by Harrie for Design School assignment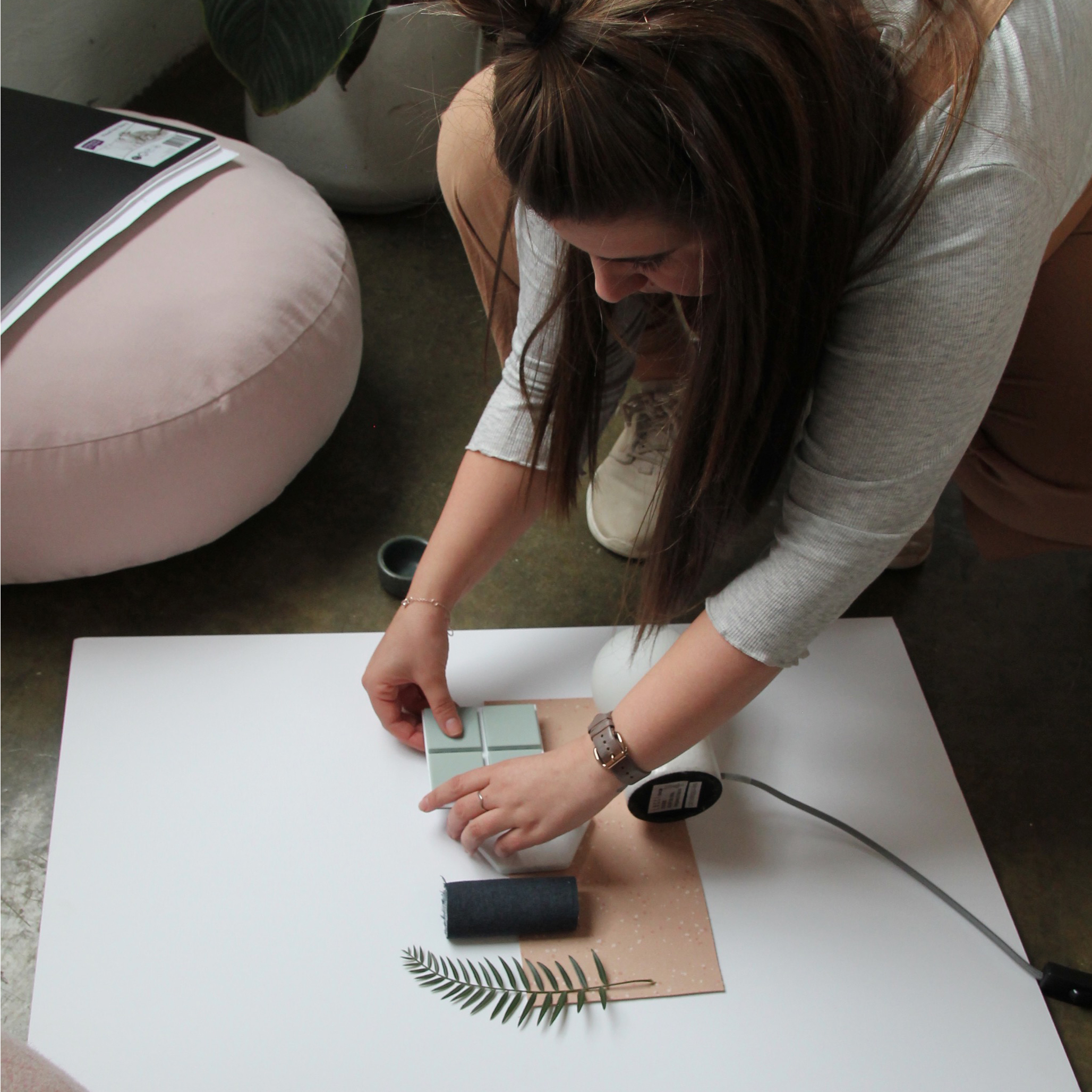 Materials board by Harrie for Design School assignment
Photographer – Leah Ladson
Why was studying at Design School worth it for you?
It is the reason I have been able to change careers! It was the perfect platform for me to head in the exact direction I wanted to, and gave me the confidence to take the batton and run! 
2019 plans or goals?
We are gearing up for the 2019 season of The Block, which I'm so excited to be apart of again. That films in the first half of the year, which will keep me busy (and tired!). I am also keen to build of my skill set and industry experience at Nectaar. I would love to be able to focus on some of my own clients toward the end of the year and get my business right off the ground. A holiday would be nice, too!

Connect
Find Harrie on Instagram  here